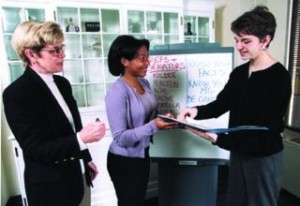 Anyone with an associate's or equivalent, bachelor's, or higher degree from a regionally accredited college or university, can join AAUW as an individual (national) member or as a member of one of AAUW's 1300 branches. Branch members also belong to the national organization.
Branch dues vary with each location, for example, in Keene this year they are $15. Every branch member must join the national organization and pay the current rate along with the local dues, a total of $64, for Keene area members. For more information contact AAUWNH.
Individual members, who do not affiliate with a branch, may join by going directly to aauw.org. Undergraduate student affiliate dues are $17; and graduate student dues are $18.81. If your College/University is a partner member of AAUW, all undergraduates may join for FREE. Contact Branch or aauw.org.
AAUW advances equity for women and girls through advocacy, education, and research.If you agree with our goals and meet the above criteria, AAUW welcomes you.